Skegness pier hotel owners promise to develop derelict site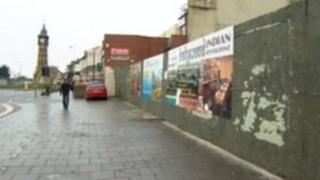 The owner of part of a Lincolnshire seaside resort has apologised for leaving the site in disrepair since it was destroyed by fire five years ago.
Taj Bola owns the site on Grand Parade in Skegness which was gutted by fire in August 2007.
He has promised to come up with a plan for a leisure complex and begin the development within the year.
Tourist industry leaders said it had taken too long to replace the buildings but were "delighted" with the news.
Mr Bola's plans for a £5m leisure complex were approved three years ago but permission runs out later this month.
'Losing money'
"I apologise sincerely from the bottom of my heart," he said.
"I talk to residents every day and I'm hoping we can get a resolution and moving things forward.
"This needs to happen. A site sitting empty like this is not doing me any favours and I'm losing money on this, so it is in my own interest to get this built."
He said an application to extend planning approval for a complex, including bars, restaurants and an ice rink had been submitted to East Lindsey District Council.
Nigel Tett, of the Skegness Hospitality Association, welcomed Mr Bola's promise.
He said: "It has been an eyesore for the last five years and every year we are told next year something will be done so hopefully this is the last we hear of it.
"Holidaymakers who come here often ask when something is going to be done so it will be nice to see something finally built."