Ingoldmells residents asked to keep odour diaries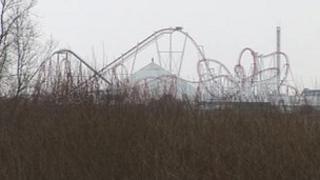 People living in a seaside resort are being asked to keep a diary noting whenever they smell sewage.
Traders in Ingoldmells, on the Lincolnshire coast, say the smells are deterring tourists.
East Lindsey District Council said the odour diaries would help determine if an Anglian Water sewage plant is to blame, and potentially help the council to take legal action.
Anglian Water said it wanted to provide a solution to the problem too.
It has already spent hundreds of thousands of pounds trying to stop the smells.
One guest house owner compared the smell to standing "at the side of an open sewer".
Anneliese Johnson, environment team leader at the council, said: "What we need to do as an enforcement body is find out whether it is that [the sewage plant] is creating the problem, so that we've got evidence."
She said the council also needs to assist Anglian Water in an advisory capacity to help it solve the problem.
She added: "We know that local people have been keeping diaries for some time in relation to this issue and sending them to Anglian Water.
"However, it's the district council that needs this information first hand so a formal investigation can take place."
She asked people to log their complaints with the council.