Lincolnshire hospitals welcome death rate probe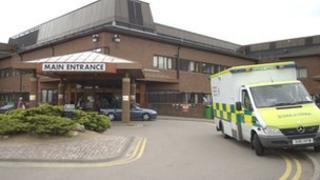 One of the 14 trusts to be investigated for high death rates has welcomed the probe and said it has improved in the last year.
United Lincolnshire Hospitals NHS Trust (ULHT) said it had made "significant improvements" in patient safety and mortality rates had dropped.
But the Royal College of Nurses said there were not enough staff and hospitals were target driven.
The investigation comes in the wake of the report into Stafford Hospital.
'Target driven culture'
Mortality rates are calculated by examining how many people would be expected to die, taking into account age and disease profile of the local population.
Last week, it was announced five hospitals would be investigated following failings at Stafford Hospital, where hundreds of patients are thought to have died after receiving poor care .
On Monday the investigation was widened to include ULHT.
The trust said it had made "significant improvements" and that a recent inspection by the Care Quality Commission found two minor concerns, compared to 14 major, moderate and minor concerns raised in 2011.
It adds: "There is still more work to do, and we are focussing on key improvements to bring our mortality ratios down even further."
But David Harding-Price, from the Royal College of Nursing, said more staff were required to free up time to deal with patients rather spend it on bureaucracy.
He added: "We have a target driven culture which is driven by management, driven by Whitehall.
"What we really want is a care culture where there are sufficient staff, where the nurses are allowed to do the job that they do to such a high standard, here in Lincolnshire and across the whole of the NHS."