Anger at plans for 300,000 chicken farm on Bleasby Moor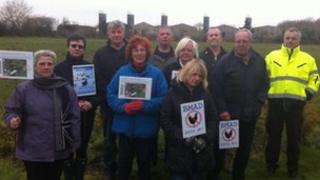 Campaigners have vowed to fight plans to convert an egg laying unit in Lincolnshire into a site for breeding chickens for slaughter.
Jagger Poultry Ltd has proposed keeping about 300,000 birds on the site at Hill Top Farm, on Bleasby Moor.
Opponents are concerned about the impact the site's expansion could have on their health and the environment.
But the firm said new buildings and equipment would mean the impact of the farm was reduced.
'Dead against'
According to the firm, bird numbers would be comparable with the site's use as an egg laying unit.
Andy White, from the Bleasby Moor Against Development (BMAD) group, said: "We are dead against the site.
"It's far too close to the village and all the problems that will bring.
"Noise, HGVs and pollution from the chimneys.
"Everyone in the village is fully behind us and opposed to this development."
The group also said there was a risk of avian flu.
'Hit by a meteorite'
But Jagger Poultry's director John Palmer said the campaign did not have local support.
He said: "The farm has been here for a long time - but what you've got is people who have moved into the area and decided they don't like it."
He added: "There will actually be less of everything - what they are objecting to is us improving the site. Less pollution - less manure and less noise - I can't really understand it."
In response to the concerns over avian flu, Mr Johnson said: "You've got more chance of being hit by three meteorites on the 5th Sunday in February."