Lincolnshire pothole cash pays for more repair teams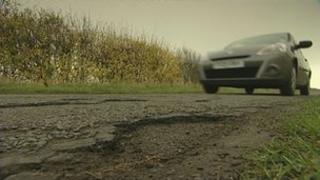 A £6.4m grant means some potholes in Lincolnshire can be fixed permanently, the county council has said.
The authority said it would create four extra maintenance teams in addition to 10 already in place.
Officials said it will use a technique called hotboxing, which costs more but lasts longer than standard repairs.
William Webb, executive councillor for Highways and Transport, said the money was "hugely welcome" but represented a fraction of the full repair backlog.
Alan Mumby, cycling safety campaigner, said: "The longer you leave it the more expensive it is in the long run, so it has to be done properly.
"I know it is all about budgets and priorities but this is about people - if a cyclist dies what is money compared to that?"
Mr Webb said the extra money was useful but they would need far more to mend all of the potholes on the county's 5,600-mile road network.
"To fill every pothole in Lincolnshire to the standard we would like would cost over £100m.
"To put our highways in general back to the standard we would like would be over £300m."