Sonny Grey boiling water murderers found guilty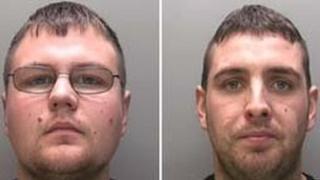 Two men have been found guilty of murdering a man they poured boiling water over in an attempt to rob.
Rocky Curtis, 25, and Robert Holmes, 24, both of Wisbech, Cambridgeshire, attacked and tortured Sonny Grey, 70, from Lincoln, in his home on 29 October 2011. He died two days later.
Det Supt Stuart Morrison, who led the investigation, described the killers as cruel and brutal.
Curtis and Holmes will be sentenced at Nottingham Crown Court on Friday.
'Not like CSI'
The court heard he was beaten and throttled, possibly with a belt, and had boiling water poured over him at least twice to make him reveal where he hid his money.
Police found £9,000 hidden in his house.
There was no forensic evidence to connect either Curtis or Holmes to the crime.
The judge Mr Justice Saunders said: "It's not like CSI. Scene-of-crime officers don't always solve crimes."
Instead, the jury saw CCTV footage of a car, belonging to Curtis's brother Thomas, driving towards Lincoln on the day of the attack.
Thomas Curtis was also arrested in connection with the attack but died last year.
Curtis and Holmes were, like Mr Grey, members of the travelling community.
They claimed they had been in Lincoln on day of the attack, planning to commit vehicle theft.
Det Supt Morrison added: "These two men have spent the past three weeks trying to convince the court and the jury they had nothing to do with this.
"I think the plan was to admit to some criminality and hide behind the smaller story. Fortunately the jury saw through that."