Sonny Grey trial: Boiling water killers jailed for life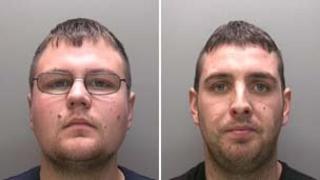 Two men have been jailed for life for murdering a 70-year-old grandfather who they tortured by pouring boiling water over him.
Rocky Curtis, 25, and Robert Holmes, 24, both of Wisbech, Cambridgeshire, attacked Sonny Grey, from Lincoln, in his home on 29 October 2011. He died two days later.
Curtis will serve a minimum of 28 years and Holmes a minimum of 26.
The judge at Nottingham Crown Court described the crime as "merciless".
Speaking as he passed sentence, Mr Justice Saunders said: "The men knew Sonny Grey kept a great deal of money in his house.
"They tortured him to try to get him to tell them where the money was."
Beaten and throttled
Sonny Grey was beaten and throttled, possibly with a belt, and had boiling water poured over him at least twice. After his death police found £9,000 hidden in his house.
The judge praised the police investigation.
He described as "remarkable" the work of Detective Constable Adam Battersby, of Lincoln police, who spent 14 months compiling CCTV footage of the killers' getaway car.
The judge said Curtis and Holmes had not intended to kill Sonny Grey.
"What they wanted to do was to steal his property and they were prepared to cause Sonny Grey really serious injury if necessary," he said.