Danish memorial for WWII Lincolnshire airmen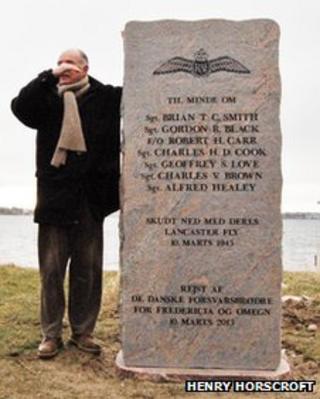 A memorial to seven dead airmen who were based in Lincolnshire during World War II is set be unveiled in Denmark.
The 44 Squadron crew was shot down by a German fighter pilot over the Baltic Sea 70 years ago.
They had flown a Lancaster Bomber from RAF Waddington, near Lincoln, and never returned home.
Henry Horscroft, secretary of the 44 Squadron Association, said it was "heart-warming" that the Danish Defence Brotherhood had organised the memorial.
'Honour the men'
The bomber was part of a mission to lay mines around German occupied ports in the Baltic in March 1943.
The 44 Squadron crew members were in the ED305 Lancaster when it was shot down near Lyngsodde, on the Danish coast.
In 1981, fishermen found the remains of the aircraft.
Last year, the Danish Defence Brotherhood decided to commemorate the loss and raised £9,000 for a 6ft (1.8m) granite stone, which has been erected in the town of Fredericia.
Mr Horscroft, who served with a Vulcan Bomber crew until 1972, said: "It's overwhelming, after 70 years that people feel the need to honour the men."
The ceremony started at 10:00 GMT on Sunday with a laying of a wreath out at sea, near the crash site.
The memorial was due to be unveiled by representatives of the 44 Squadron Association, and family of the men who died, at about 14:00 GMT on Sunday.
The men who flew on the bomber were named Sgt Brian Smith, Sgt Gordon Black, Flying Officer Robert Carr, Sgt Charles Cook, Sgt Geoffrey Love, Sgt Charles Brown, and Sgt Alfred Healey.