Cross Keys swing bridge strike under way at Sutton Bridge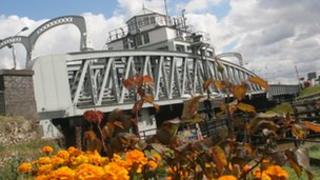 Staff at a Lincolnshire swing bridge, which carries 17,000 vehicles a day, have walked out over a pay dispute.
The Cross Keys swing bridge spans the River Nene at Sutton Bridge, linking Norfolk with Lincolnshire.
Unison members' week-long strike began at midnight, over plans to cut their pay after three years of a pay freeze.
The county council said it hoped to keep disruption to road and river traffic to a minimum, but some leisure boats could be affected.
Unison, which represents the two bridge keepers and the bridge supervisor, said the council wanted to cut 13.5% of their take-home pay.
The authority said the workers were covered by a collective deal already agreed with its 6,000 staff.