Chief constable Neil Rhodes suspension: No IPCC investigation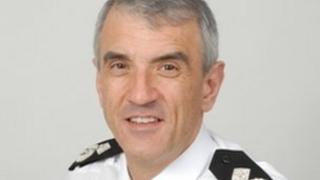 The Independent Police Complaints Commission (IPCC) will not investigate Lincolnshire's chief constable and has referred it to the force.
The county's police and crime commissioner (PCC) suspended Neil Rhodes to consider "potential conduct matters".
The matter was referred to the IPCC which said it "did not amount to serious corruption or misconduct".
PCC Alan Hardwick said he would carry out his own investigation.
Previous rulings
Temporary chief constable Mr Rhodes was appointed in March last year but suspended last month.
The allegation has not been made public and Mr Rhodes' replacement said he was in the dark.
In a statement, a spokesman for the IPCC said: "The outcome of the IPCC assessment is that we are satisfied the matter requires investigation but does not amount to serious corruption or misconduct which would merit an IPCC investigation."
He added that the matter had been handed back to Lincolnshire police to investigate.
The IPCC carries out investigations into complaints about misconduct which are considered serious.
These include death or serious injury, organised corruption and allegations against senior officers.
In a statement, Mr Hardwick said the decision by the IPCC was understandable and reflected previous rulings.
He added: "I will be conducting my own independent and rigorous local investigation into the potential conduct matters that were raised."