Lincolnshire police chief inquiry: 'Public need facts'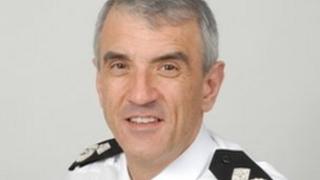 The public should be told why Lincolnshire Police's chief constable has been suspended, an advisory group has said.
Neil Rhodes was suspended by Alan Hardwick, the county's police and crime commissioner (PCC).
The matter was referred to the Independent Police Complaints Commission (IPCC), but it decided not to investigate.
PCC advisor Paul West said the silence over the issue may affect public trust.
Mr West, a former chief constable of West Mercia Police, now advises PCCs. He has worked with PCCs in Dorset, Cleveland and Essex.
'Undermine public confidence'
He said Mr Hardwick, who is now conducting his own investigation into the matter, should explain the allegations to the public.
"I think it's now incumbent upon him to provide appropriate information so the people of Lincolnshire have some sense of what on earth is going on," Mr West said.
"There is no doubt issues like this can only undermine public confidence in policing and that's the last thing the police service nationally and locally in Lincolnshire need at this stage."
Temporary chief constable Mr Rhodes was appointed in March 2012 but suspended in February.
Mr Rhodes' replacement says he is in the dark about the allegation.
'Openness and transparency'
The IPCC referred the investigation back to the force after saying it "did not amount to serious corruption or misconduct".
Mr Hardwick, who was elected PCC in November, said the investigation relates to "potential conduct matters". He has previously said he aims to bring "openness and transparency" to the force.
Mr West said it is possible Mr Rhodes himself is unaware of the reason for the suspension.
He called on Mr Hardwick to initiate an "appropriate, proportionate and speedy investigation" so matters could be resolved as soon as possible.