Superfast broadband for rural Lincolnshire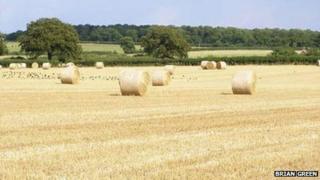 A £50m project to roll out superfast broadband to at least 88% of houses and businesses in Lincolnshire is set to begin.
The county council has confirmed a deal with BT to upgrade the broadband network with fibre optic cables.
It will mean rural communities will be able to access internet speeds of at least 24Mbps.
Work is due to begin in the autumn and is expected to be completed within two years.
Kelly Smith, county council executive member for finance and HR, said the whole county would benefit from the deal.
He said: "In terms of the way businesses work - in terms of the way people interact socially, the internet is becoming more and more part of everyday life.
"Companies need it to expand and if we want companies to relocate here we need to have this 21st Century technology in place."
The government has pledged to provide everyone in the country with speeds of at least 2Mbps by 2015 and has set aside £530m to fund this.
It also wants 90% of homes and businesses to have access to "superfast" broadband - defined as speeds of 24Mbps or higher - by the same timeframe.
There have been criticisms that the drive to get broadband into rural areas has been too slow with councils ill-equipped to negotiate deals with telecom companies and too little money being provided to help them.
Bill Murphy, managing director, Next Generation Access, BT, said: "We have a great deal of responsibility rolling out superfast broadband over and above the areas we are going to cover commercially.
"It's a very ambitious program and its going to take a lot of engineering over the next couple of years, but we are very excited about it."
He added BT was also working with new technologies to extend the coverage in Lincolnshire even further.
The firm has already announced it is extending its roll out of superfast broadband to include its exchanges in Grantham, Spalding, Gainsborough and Bourne.