'Marked reduction' in hare coursing in Lincolnshire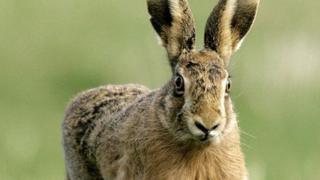 A police team dedicated to combating hare coursing in Lincolnshire said it has seen a "marked reduction" in cases.
Operation Galileo, which has six full-time officers, started using a special hare coursing squad in September.
A police spokesman said it had received 800 reports of hare coursing from September 2012 to March 2013, a drop from 1,200 in the previous season.
Traditionally offences start to rise in the autumn after crops have been harvested and continue until spring.
Operation Galileo's Insp Andy Ham said: "We'd been told that some potential offenders were already staying away, but that other more dedicated hare coursers will continue to come.
"Well the police aren't going to go away either, and if you do offend here, particularly in contravention of a restraining order, there are going to be some real consequences for you."
He added rural crime remains a priority for the force.
The National Farmers' Union has previously said that Lincolnshire has more problems with hare coursing than other counties because it is relatively flat.
Police said people from outside the county were travelling in to take part.