United Lincolnshire Hospitals: Action 'must' be taken over deaths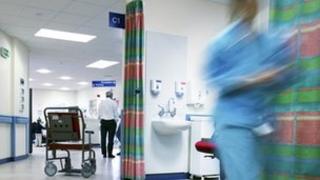 A government advisor said hospital managers at a Lincolnshire NHS Trust must take action to reduce death rates.
There has been more than 1,800 deaths in United Lincolnshire Hospitals than expected in the past decade, according to the Dr Foster research unit.
Professor Sir Brian Jarman, the group's director, said the trust's board should be taking the data very seriously.
Eiri Jones, the trust's director of nursing, said it was focused on safety and quality.
She said: "Any area where there is a higher than expected [death] rate we would review it.
"We already have some very detailed action plans in place across the trust looking at our mortality."
'Consistent pattern'
The Dr Foster research unit at Imperial College in London, has developed systems for monitoring death rates - known as hospital standardised mortality ratios (HSMRs) - and other data on a monthly basis.
Sir Brian Jarman said: "We can't say if the deaths were avoidable, what we can say is the deaths in United Lincolnshire exceeds the number that you would have had had the national death rates applied.
"It could be a variety of things, you can't go down to individual patients, it is a statistical measure and hasn't changed all that much.
"It's been a consistent pattern for the last five years, at least.
"The chief executive, and particularly the board, should take or should have been taking this data very, very seriously."
Sir Brian has been publishing such data for 12 years and helped expose high death rates at Mid Staffs and the 14 trusts, including Lincolnshire, now under investigation.
Dr Foster has estimated that Lincolnshire's death rates for 2012/13 will show a slight downward trend, but it will still be above the national average.
United Lincolnshire Hospitals Trust has admitted it has got more to do to improve its death rates.