Sutton-on-Sea Methodist Church lightning damage repair work starts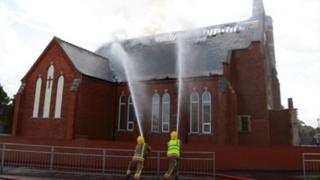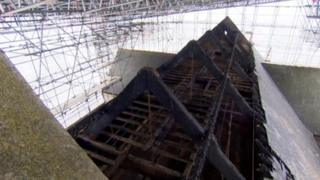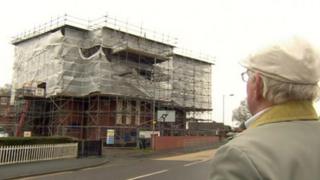 Work has begun to repair a church badly damaged by a lightning strike on the Lincolnshire coast.
Sutton-on-Sea's Methodist Church, on Station Road, was hit by a bolt of lightning last summer.
Fire crews put out the blaze but the timbers in the roof caught fire, causing extensive damage to the top of the building.
The restoration work is expected to cost more than £250,000 and be completed by Christmas.
'Community loss'
Builder Steve Rodden, who is working on the project, said: "It's a laborious job but it's really about taking the time and having the right people doing the work."
He added: "Hopefully, the results will be absolutely fantastic."
Since the fire, services have been held in the village of Trusthorpe.
The Reverend Cecil Mundy said: "It's been a difficult time and we've lost touch with the people of Sutton-on-Sea."
He said: "Even though we've been worshipping a mile or so out of town, it's still that loss of contact with your local community."