Dambusters' base could host major tourist attraction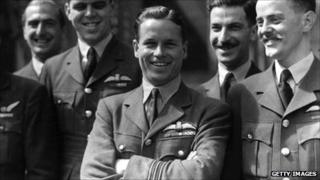 A multi-million pound tourist attraction could be built at RAF Scampton, previously home to the Dambusters.
The county council wants to create an aviation heritage centre at the base, now used by the RAF's aerobatic team, the Red Arrows.
The authority said it could be a major boost for the county's economy.
The council said it had held provisional talks with the Ministry of Defence.
The authority's chief executive Tony McArdle said the site had the potential to become a tourist attraction of national importance.
Story of aviation
He said: "We think RAF Scampton has got a tremendous history and potentially a tremendous future.
"It's great because we've got the Red Arrows there, and most people know the Dambusters' story."
He added: "But we think it's capable of so much more - it's a hugely underused base at the minute."
The council said it would like to create a range of exhibits, telling the story of aviation in Lincolnshire and nationally.
The RAF now has six operational stations in the county, but during World War II there are thought to have been more than 100 military airfields, including dummy airfields and emergency landing strips.
The county is already home to the Battle of Britain Memorial Flight, a collection of aircraft which includes Spitfires and Hurricanes.
The Central Flying School also has its home in Lincolnshire, based at RAF Cranwell.