SO Festival labelled waste of money 'one of the best'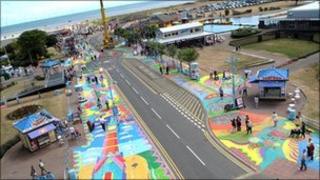 A Lincolnshire arts festival that was labelled a waste of ratepayers' money is "one of the best in the country", Arts Council England has said.
The SO Festival, which features gigantic inflatables and roaming dinosaurs, takes place in Skegness and other local towns.
East Lindsey District Council said the event was worth over £1m to the area.
But Andrew Leonard, councillor in nearby Louth, said it did not attract any new visitors.
Arts Council England director Peter Knott said: "[Our] mission is great art for everyone and SO Festival represents that aspiration in a major way.
'Recognised performers'
"With a range of first class performance and arts events it has quickly become one of the best and most anticipated outdoor festivals in the country.
"The feedback from last year's festival was amazing," he said.
Mr Leonard had previously criticised East Lindsey District Council for spending £350,000 on its event programme, which includes the festival.
He said: "The people who are going to the SO Festival are already in Skegness having a holiday - they are not coming from further afield."
He also accused the council of overlooking places likes Louth and wasting money funding "non-entity" events as part of the festival.
But East Lindsey councillor Adam Grist said: "We have extended our market town programme, built upon our reputation to attract nationally recognised performers and artistic companies, and worked hard to develop a programme that will appeal to as many people as possible.
"We work very hard to deliver an engaging and exciting programme and hope that everyone benefits."
This year's SO Festival is due to be held from 28 June to 7 July.