New footbridge in Lincoln 'may prevent rail deaths'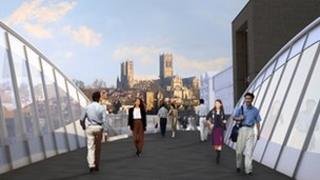 Plans to build a pedestrian footbridge on the site of a "dangerous" level crossing in Lincoln have been approved.
The proposals for Brayford Wharf East were considered by Lincoln City Council's planning committee on Wednesday.
The level crossing is one of two in the city with some of the highest risk ratings of more than 1,500 crossings between London and the Scottish border.
Network Rail said it would start work on the footbridge in the summer.
While the bridge would not replace the level crossing, Network Rail hoped it would discourage pedestrians from misusing the crossing and putting their lives at risk.
'Prevent risks'
"What we regularly see on these level crossings is people climbing over the barriers after they've gone down and running across the tracks which could, of course, result in a fatality," said Rachel Lowe, a spokesperson for Network Rail.
"We want to prevent those risks."
The company aims to complete the bridge in spring next year.
A second footbridge is being considered for the level crossing on the High Street, Lincoln.
This crossing was rated the most dangerous on the London to Scotland route, according to Network Rail figures.
The company said the work on the High Street was more complex than Brayford Wharf East and it did not yet know when a planning application would be submitted.
Phil Verster, route managing director for Network Rail, said: "We continue to seek the best possible solution for the High Street.
"We are in discussions with local property owners to see if it is possible to redevelop a building as part of the footbridge design."