Question over Neil Rhodes' returning role at Lincolnshire Police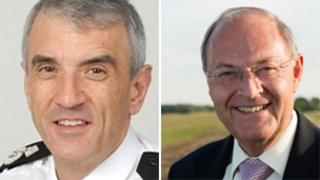 A temporary chief constable who had his suspension quashed by a court, will not return to lead the force, a police and crime commissioner (PCC) has said,
Neil Rhodes was suspended by Lincolnshire's PCC Alan Hardwick in February.
On Thursday the High Court ruled the decision to suspend him was "perverse".
Mr Rhodes' contract as temporary chief constable contract ends on 31 March and he will resume his role as deputy chief, Mr Hardwick said.
An expert on policing claims that decision may not not be valid.
'Irrational and perverse'
At the one-day judicial hearing at the High Court in Manchester, it was alleged Mr Rhodes helped a senior Muslim lawyer, who was dismissed from West Yorkshire Police after 17 years and was suing his former employer.
Mr Rhodes then became involved in the proceedings and the pursuit of racial discrimination claims which he knew to be untrue, the court was told.
Speaking on Thursday, Mr Rhodes said: "I'm very pleased with the decision of the judge today who has declared my suspension irrational, perverse and therefore unlawful.
"I will return to work now and I will continue to serve Lincolnshire Police with a personal and professional integrity I believe I have displayed over the past 27 years."
However, in an interview with BBC's Look North, Mr Hardwick said: "Mr Rhodes' temporary position ends on the last day of the month.
"His substantive role is deputy chief constable. Alec Wood is the acting chief constable, he will be chief constable on Tuesday."
'Clear legislation'
Paul West, a former chief constable who now advises the government on policing issues in his role as director of Policing For All, said everyone knew Mr Rhodes' temporary contract expired at the end of March.
"There's been adequate time for a chief constable to be appointed. For whatever reason, Alan Hardwick hasn't taken that route and on Monday Neil Rhodes reverts to being deputy chief constable.
"There is currently no chief constable in Lincolnshire, therefore he [Neil Rhodes] must act up to be acting chief constable.
"That is clear in the legislation. There is no provision in law for anything other than that to happen."
Mr Rhodes was appointed as chief constable on a temporary basis when the previous chief constable Richard Crompton retired at the end of March, last year.
Mr Rhodes was placed in charge until the end of March, when his future was due to be discussed with the new PCC.
The matter was referred to the Independent Police Complaints Commission (IPCC), but it decided not to investigate.