Lincolnshire police panel criticised over chief constable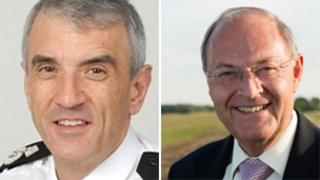 The body which oversees the work of Lincolnshire's Police and Crime Commissioner (PCC) has been criticised by a government adviser.
It comes after the suspension and subsequent reinstatement of the county's chief constable Neil Rhodes by PCC Alan Hardwick.
Paul West said the Police and Crime Panel (PCP) needed to take a more active role.
The panel said it would hold Mr Hardwick to account if necessary.
Mr Rhodes was suspended in February but this was quashed by a judicial review last week, which called the original decision "perverse".
Mr Hardwick then said Mr Rhodes would not return to his role as chief constable - before changing his mind.
'Sadly absent'
Lincolnshire's Police Federation said it backed this move which gave the force "consistency"
However, an investigation into the original allegation - about Mr Rhodes' involvement in a separate employment dispute - is continuing.
Now Mr West, the former chief constable of West Mercia police and director of Policing For All, a private company which advises on police reform, has questioned the role of the PCP.
He said: "In my estimation they have been sadly absent throughout this case, both in relation to the original suspension decision and the lack of scrutiny of that.
"Had that been properly scrutinised I am pretty sure we would have not got near a judicial review."
In a statement, the panel said that when it next met it would scrutinise the performance of policing in the county, including the work of the commissioner.
If a performance-related issue was identified, it added, the panel would rigorously challenge the commissioner and hold him to account.