Pilgrim Hospital in Boston 'improving', says CQC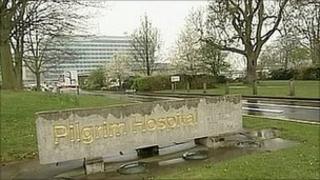 A Lincolnshire hospital which was criticised for staff shortages has improved, according to the Care Quality Commission (CQC).
Pilgrim Hospital, in Boston, has recruited five new consultants, as well as nurses and junior doctors.
In a 2011 report, the CQC said the hospital's staff shortages had led to high numbers of complaints and a number of serious incidents.
The CQC said it would continue to monitor progress at the Pilgrim.
Eiri Jones, director of nursing at the United Lincolnshire Hospitals Trust, which manages the hospital, said the appointments had had an impact on how quickly patients were seen.
Trust 'worked hard'
"We are very pleased the CQC are clearly seeing all the improvements we are making. Safety and quality are still our main priorities," she said.
In October 2011, the CQC reported that the hospital was experiencing problems with the recruitment and retention of medical and nursing staff.
It said the shortages had led to poor quality care, clinical errors and a series of serious incidents, as well as increasing the hospital trust's annual expenditure, due to high levels of locum and agency staff.
The CQC's latest report, released on Friday, said the hospital had taken part in a number of training and recruitment campaigns to improve staffing levels.
It said: "The trust has worked hard since CQC identified failings in the governance of the organisation."