Moy Park poultry farm fined £50,000 for 'nauseous' smells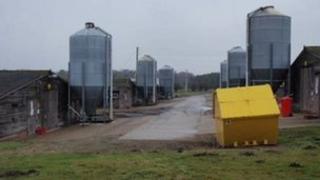 A food company that makes chicken dishes for Jamie Oliver's brand has been fined for "nauseous" smells from one of its Lincolnshire poultry units.
People living near Heale Farm in Kirkby on Bain complained the smell made them feel sick and depressed.
Moy Park Ltd, the company responsible for the site, were fined £10,000 at Lincoln Magistrates' Court plus costs of £42,500.
The company said it had taken measures to mitigate the odours.
The Environment Agency, which brought the case, said the two charges of breaching environmental permit conditions related to a period between July 2008 and September 2011.
During that time, the agency received 94 complaints about the smells from residents, who said they made them feel nauseous and depressed.
At a hearing on Wednesday, the court heard Moy Park held an environmental permit authorising intensive poultry rearing of up to 156,200 broiler birds on a 37-day cycle.
The permit contained conditions to protect the environment and local communities.
Marginally improved
Since February 2011 Moy Park had reduced the number of birds at the farm and that had marginally improved the smell, the court was told.
The company was fined previously for a similar offence at Sibsey in March 2011.
Moy Park also owns processing plants in Northern Ireland, which produce chicken dishes for Jamie Oliver's brand.
A spokesperson for the company said: "We are disappointed by this ruling which relates to historical events from 2009 and 2011.
"We take our environmental responsibilities very seriously and strive to be a good neighbour. We believe we have taken all appropriate measures to mitigate potential odours at Heale Farm."
They also said they had invested £400,000 in four years on trying to reduce or eliminate the smell.