Former PCC candidate Mervyn Barrett threatened with legal action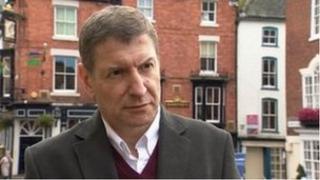 A former police commissioner candidate could face legal action over debts he claims were run up by his former campaign manager without permission.
Mervyn Barrett pulled out of the Lincolnshire PCC elections after he discovered Matthew Brown had previously been convicted for fraud.
He said thousands of pounds went missing from his account and he has been asked to pay debts which he claims Mr Brown ran up without his authority.
Mr Brown has declined to comment.
A Metropolitan Police spokesperson said the force was investigating an allegation of fraud but no arrests had been made.
Mr Barrett said he had already lost about £100,000 - largely, he said, because of money missing from his account but also from paying some of the debts.
He said the alleged fraud had damaged him psychologically and he almost died from a cardiac arrest, which doctors told him was brought on by stress.
"I have pretty well lost all self-regard," he said.
"As far as I can see I will never get over what happened, though in the weeks and months ahead I will come to terms with it."
He launched his PCC campaign in June 2012 after leaving crime reduction charity Nacro, where he was head of resettlement information.
'Secret backing' claims
Mr Brown, who had been doing voluntary work at the charity and claimed to have experience running other election campaigns, became his manager.
But in October, when journalist Andrew Gilligan claimed in the Sunday Telegraph that the campaign was being "secretly backed by American neo-conservative lobbyists and companies pushing for police privatisation", Mr Brown resigned.
Mr Barrett said the Telegraph's claims were "completely absurd".
A blogger read the story and recognised Mr Brown as a fraudster who ran up £18,000 on credit cards 10 years before while posing as a lord and a high-earning City worker.
Mr Barrett then stepped down from the campaign after he discovered money apparently missing from his bank account.
Since then, he said, debts of between £50,000 and £60,000 have emerged.
"Most of [the money] had nothing to do with the campaign," he said.
"Legally all campaign spending had to go through the campaign agent and Matthew wasn't the campaign agent."
He has paid some of the debts, but two firms are threatening him with litigation for more than £5,000 owed.
Mr Barrett said he did not have the money to pay the debts and would defend himself against the claims.
James Mullion, Mr Brown's solicitor, said: "Unless and until we receive confirmation that the investigation is completed and there is no further inquiry in respect of our client we do not feel it is appropriate for us or our client to comment."