Child 'blinded' after eating grandmother's tablets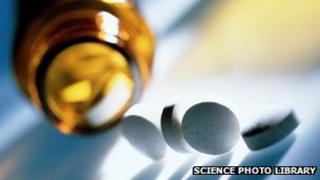 A Lincolnshire toddler was left blind after eating her grandmother's medication which was left out next to a pack of mints, a court has heard.
The 75-year-old woman from Skegness admitted leaving quinine tablets within reach of the one-year-old girl.
The child was in a coma for one month but has since made a full recovery, and her eyesight has returned.
The woman was given a 12-month conditional discharge at Lincoln Crown Court.
When paramedics arrived the girl was "staring into space" with her eyes open and no verbal response, the court was told.
'Tragic accident'
Phil Howes, prosecuting, said police later found a pack of opened quinine tablets, which are used for treating leg cramps and arthritis in adults, next to a pack of mints.
"This is a very tragic case with a lesson to be learnt," said Mr Howes.
"Clearly it is easy to see why a child could see them and take them."
During an interview the pensioner said she thought she had left the tablets out of the child's reach.
Medical tests carried out two weeks after the incident in May, showed the toddler's sight had not yet come back.
Further tests a month later showed her vision was returning, and a further report in January revealed she had made a full recovery.
Mr Howes told the court: "The child's mother does not blame the grandmother and believes it was a tragic accident."
The pensioner was given a 12-month conditional discharge but Judge Sean Morris warned her to keep medication in a secure place.
Judge Morris told her: "You, like me, are old enough to have seen the old BBC public service adverts which warned people to keep tablets out of the reach of children."
He added: "This was a tragic accident but it could have resulted in most terrible consequences."