Thera care workers protest at Grantham headquarters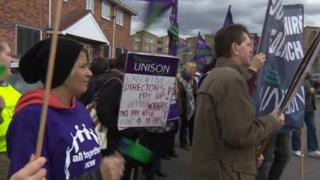 Some healthcare workers, who look after people with learning difficulties in Lincolnshire, have gone on strike over a pay dispute.
Workers held a demonstration outside the Thera Trust's East Midlands headquarters in Grantham earlier.
The Unison union said some staff were set to lose £400 a month, as well as holiday and sick pay as part of proposed changes to their contracts.
However the Thera Trust said the vast majority of staff would not lose money.
In a statement the trust said: "While a small number of staff will be disproportionately affected by the proposals... the vast majority will see no change at all in their salary.
"No redundancies are proposed in relation to the pay review and those staff most affected are being offered substantial discretionary support for at least 12 months."
Workers help people with learning disabilities to wash themselves, carry out household duties as well as taking them out shopping and on activities.
Pam Shepherd, from Unison, said: "This is an organisation that in the past has prided itself on being different from other private companies regarding the care of people with learning disabilities and challenging behaviour.
"Throughout this consultation Thera has proved they are no different from any other private company with a race to the bottom in what they want to pay their staff."
She said two further days of strike action were planned for May if a resolution was not found.