Boston double killing victims were 'stabbed'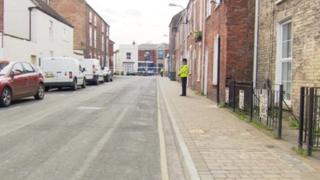 Police investigating the murder of a man and a woman in Lincolnshire believe both victims had been stabbed.
A 26-year-old woman died at an address in Red Lion Street in Boston on Sunday. A man, also 26, was taken to hospital for treatment but later died.
Officers said preliminary findings of a post-mortem examination were "consistent with stabbing".
Another woman, 24, is in hospital with less serious injuries. A man, 41, has been arrested on suspicion of murder.