Italian beer brand Peroni 'snubs Skegness'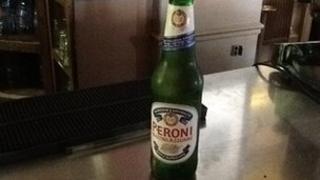 Skegness hoteliers have accused a beer company of "stereotyping" after it refused a seaside bar permission to serve one of its drinks on draught.
The company behind Peroni turned down the Crown Hotel's request after visiting the venue.
A spokesman for Miller Brands said: "It's just about making sure we have the right brand in the right place."
However, a Lincolnshire hospitality association said they could not understand the decision.
Nigel Tett, who chairs the Skegness East Coast and Wolds Hospitality Association said: "I have never heard of another beer doing this."
He said several other Lincolnshire outlets had also wanted to sell Peroni but had also been refused permission.
He added: "In the whole county, I've only heard of it being sold in one bar in Lincoln and in Stamford.
"You can buy it in bottles but not from barrels. The Crown is a nice place and I would have thought it would have been ideal.
'Not good enough'
"I think it's the company's loss. Basically, they're stereotyping."
Derek Bain, who owns the three-star Crown Hotel said: "We applied to get Peroni put into our bar.
"They came and assessed the bar and said the brand didn't fit the area. I explained our hotel sits next to a golf course and we have million pound houses all up the street.
"We have people asking for the draught product. We are allowed Peroni in bottles but not draught.
"I think it's crazy because they are judging a pub before they have seen the clientele. We are in one of the best areas of town. I don't understand how they can turn their noses up. It's bad to label the town as not good enough for the brand."
Jonathan Bennett, spokesman for Miller Brands, said: "We try to map Peroni in places where it will do well. Peroni is an authentic, imported Italian beer and a draught installation is not right for every outlet."