Coastguard launches rescue after woman disappears near Skegness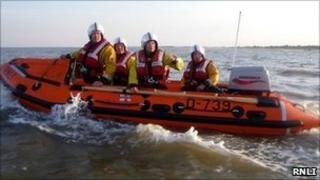 A woman who disappeared while swimming off the Lincolnshire coast in the early hours was found alive after a major search operation.
The Coastguard and RNLI were called to help and a search and rescue helicopter was scrambled at 04:00 BST.
The 23-year-old was found semi-conscious on a beach near Skegness.
The woman and two men who tried to find her in the water were treated by Coastguard staff before being taken to hospital.
The woman had decided to take her clothes off and go for a dip on the beach near Chapel St Leonard, said coastguards.
The men who were with her went into the water to try to find her when she disappeared from view.
'Very lucky'
After searching the sea at the holiday resort they called 999.
The Chapel St Leonards' Coastguard rescue team and Skegness inshore lifeboat were dispatched with support from an RAF search-and-rescue helicopter.
A spokesman for the Coastguard said: "A tractor driver, working on the beach, witnessed the event unfolding and went to the aid of the two men, who by now were both very cold and distressed.
"Taking over the call to the Coastguard, the tractor driver gave a running commentary of events and prevented anyone from returning to the water.
"A short while later, the female was found on the beach, semi-conscious, breathing but very cold."
All three were given first aid by the rescue team before paramedics from the ambulance service took them to hospital.
Mike Puplett, Humber Coastguard watch manager, said: "This young woman has been very lucky.
"The water temperature is only 7C, and this lady had been drinking."