Boston Council 'flags up' dog dirt to shame pet owners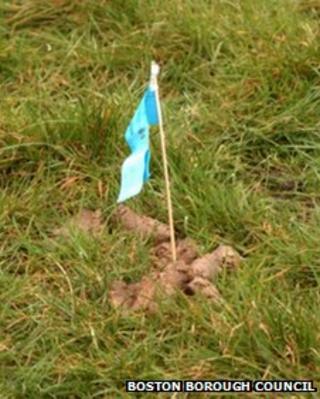 Dog mess is being flagged up in a park in Lincolnshire to try to shame owners into clearing up after their pets.
Boston Borough Council is to roll out the scheme in Central Park after it proved successful in Westgate Woods.
It is hoped that dog owners returning to the offending spot will be shamed by the flags, which have "humorous and caustic" messages.
Councillor Richard Austin said there had been a "marked decrease" in fouling where the flags had been used before.
'Haven't bothered'
"We don't clean up on behalf of the dog owners who cannot be bothered, but we do flag up the position of the pile that has been left," Mr Austin said.
"Dogs being creatures of habit they often return to the same place and that's when the owners are confronted by the flag - evidence that someone else has found what they haven't bothered to collect.
"We thought this might give a short, sharp shock to people who don't clean up after their dogs. It hopefully will make them change their habits and attitudes.
"It does seem to work. Since we started flagging up the problem there has been a marked decrease in the amount not cleaned up."
Council staff at the park in Boston recently discovered 40 piles of dog faeces.
Exposure to canine faeces can lead to toxocariasis - an infection caused by roundworm parasites - which can cause blindness in humans.
"It is probably only 5% of the dog-walking population that is causing the problem but you have got to get to them," Councillor Austin said.
The flags bear phrases such as "man's best friend - let's keep it that way" and "flagged up… irresponsible dog owner woz 'ere".