Ingoldmells' Bell Inn fire 'caused by faulty electrics'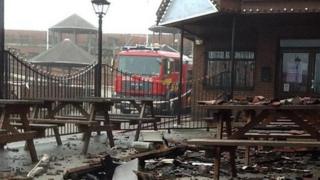 A fire which destroyed a Lincolnshire pub was possibly caused by faulty electrics, fire investigators have said.
About 100 customers at the Bell Inn, in the coastal village of Ingoldmells, fled the fire on Thursday evening.
No-one was injured but there was major damage to the building.
Investigators said a fault in a neon light transformer in the attic may have caused the fire.
The pub in Anchor Lane had recently undergone a major refurbishment and was particularly busy due to a karaoke night.
Pub owner Frazer Bell said the pub had been in the family since 1984.
He said: "We are devastated. The one saving grace is that everyone got out OK and the staff were great, staying calm and getting all the customers out safely."