Lincolnshire County Council: Unison concern over 300 staff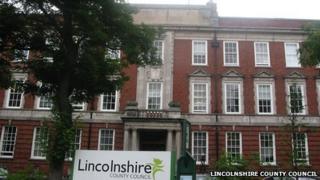 A union has said it is concerned about the future of hundreds of staff providing back-room services for Lincolnshire County Council.
Unison said 300 people working for contractor Mouchel were affected as the firm was not included in a shortlist for a new contract for the services.
The firm has provided IT, HR, payroll and financial services since 2000.
The authority said it was confident it had chosen the best companies to deliver the service.
A spokesperson for Unison said: "Staff are disappointed and there is a great deal of uncertainty at today's news as they don't want to transfer to other contractors.
"Many big companies move services and employees to central locations rather than keeping the jobs locally.
"Mouchel during the past 13 years has kept jobs in the Lincoln area."
'Smooth transition'
Pete Moore, the council's executive director for resources, said: "Although our partnership approach has proved very successful over the years, the world has changed considerably during the past decade and we needed to change with the times to make sure taxpayers are still getting the best value for money.
"We have carefully assessed all the bids received for the contract and we are confident that we have chosen the top three companies that can best meet our future needs.
"The current partnership between the council and Mouchel will continue until 31 March 2015 and we will be working closely with them to ensure a smooth transition for all."
The authority said the transferral of staff was a matter for Mouchel and the successful bidder.
A final decision on the contract is due to be made in early 2014.