United Lincolnshire Hospitals Trust to recruit more nurses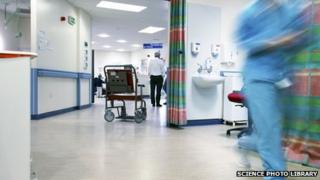 A Lincolnshire hospital trust is to recruit 80 new nurses.
The United Lincolnshire Hospitals Trust, which has hospitals in Grantham, Lincoln and Boston, said it hoped the changes would help it meet "increasingly complex patient needs".
In February, a government review was announced into higher than expected mortality rates at the trust.
The trust has also been criticised by the Royal College of Nurses for not having enough staff.
'Better quality of care'
David Cleave, a matron at Lincoln Hospital, said: "Typically we have one nurse looking after about seven or eight patients.
"That's more than we would like, particularly in these high-dependency areas.
"What we do know is where staffing levels fall below where they should be, inevitably patient care will fall below where it should be as well."
Eiri Jones, the trust's director of nursing, said the 80 nurses would be a mixture of newly-registered nurses, as well as experienced staff.
They would be used to fill current gaps, as well as provide additional support.
She said: "We have agreed as a trust board we want to invest some money in nursing this year and possibly next year as well."
Ms Jones said the new roles would help increase staffing at night. She added the changes would also enable more ward sisters to be taken off general rotas so they could oversee patient care.
"When you look at ratios, it's quite difficult to work out if you have the right ratio of nurse to patient or not," she said.
"But research shows us the more nurses you have, the better the quality of care."
Professor Patrick Callaghan, head of the school of nursing at the University of Nottingham, said the decision could only be good for patients.
He added low ratios of qualified nurses to patients could be difficult to manage.
He said: "I think it is difficult, especially if you are faced with patients with challenging and complex healthcare needs."