Mallard steam locomotive to return to Grantham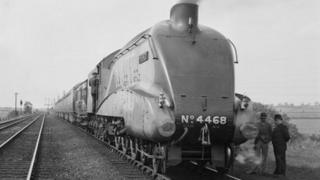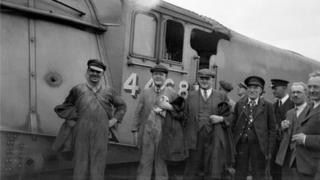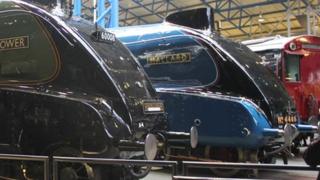 The world's fastest ever steam locomotive is to return to the district where it broke the record.
Mallard reached a top speed of 126mph (203km/h) after passing through Grantham, Lincolnshire, on 3 July 1938.
The locomotive will be displayed near Grantham station on 7 and 8 September, as part of the 75th anniversary celebrations of the record being set.
It is normally kept at the National Railway Museum in York, and has not been in Grantham for 50 years.
Locomotive enthusiast Henry Cleary, who has been involved in organising the celebrations, said Mallard was a "national icon".
"It's still the world record and it will never be broken," he said. "It was the pinnacle of the express steam locomotive. It obviously looks very good. It looks beautiful."
No longer 'steamable'
Mallard was last in Grantham in 1963, the year it was withdrawn from express service.
It can still travel on track but is no longer "steamable", meaning it cannot travel under its own steam.
Instead, another locomotive will need to pull Mallard to Grantham along the East Coast Main Line.
It broke the record on the same line, just south of Grantham on a stretch called Stoke Bank.
The two-day event has been organised by a partnership which includes South Kesteven District Council and Lincolnshire County Council.
Lincolnshire County Council hopes the event will encourage businesses to "consider having a future in the town".
South Kesteven District Council said it will underline "Grantham's brilliant location on the UK's fastest north-south rail route".
Visitors will also be able to view a Deltic locomotive - Mallard's high speed diesel successor - and streamlined 1930s racing cars inspired by the Mallard design.