Long Bennington fire victim 'incapable of escaping'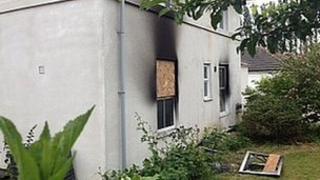 A disabled man has died in hospital after being unable to escape from a fire at his home in Lincolnshire.
The 68-year-old, named locally as Peter Dore, suffered severe burns in the fire in Fen Lane, Long Bennington, on Saturday afternoon.
A neighbour suffered burns as he pulled the man out of the fire before emergency services arrived.
The police and fire service have established the fire was not started deliberately.
Neighbours said Mr Dore had mobility problems, which meant he was semi bed-bound.
'Terrifying for him'
One woman, who saw him being wheeled into an air ambulance, said his death was a "terrible, terrible shock".
"It must have been terrifying for him to know that there was a fire right in the room where he was living," she said.
"He was totally incapable of escaping from the fire and it's very, very sad."
The neighbour who tried to rescue him was also taken to hospital.
Emergency services were called at 13:45 BST.
Sean Taylor, of Lincolnshire Fire and Rescue, said: "Really what took us by surprise was really the extent of the fire when we arrived.
"It really was quite a ferocious fire.
"A neighbour had acted very bravely and entered the property in thick smoke and rescued the occupant, who we now know has tragically died."
An inquest will be held to establish the circumstances of the man's death.