Men arrested after raid on Eastgate Jewellers in Louth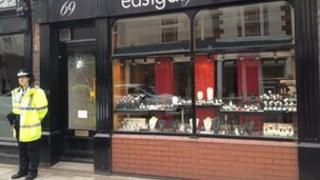 Two men have been arrested after a smash-and-grab raid at a jewellers in Lincolnshire.
Robbers wearing crash helmets entered Eastgate Jewellers in Louth at about 13:20 BST and smashed display cabinets, police said.
One eyewitness said the actions of a member of the public prevented them escaping on a motorbike.
Two men were later arrested after a search involving armed officers and a police helicopter.
'Hammer and knife'
Wendy Johnson, owner of a nearby diner, said when she came outside to see what was happening she saw a man disabling a bike parked outside the jewellers.
She said the offenders ran off down Burnt Hill Lane.
"One of my customers then chased after them and caught one of the men."
Eyewitnesses reported seeing the offenders carrying a hammer and knife.
The second man was arrested later.