Japanese Power Ranger to lead egg throwing team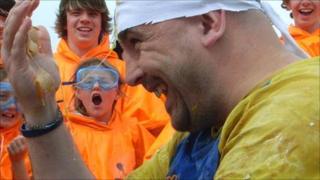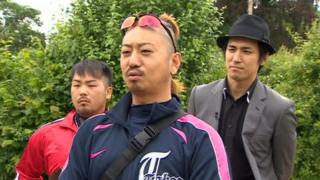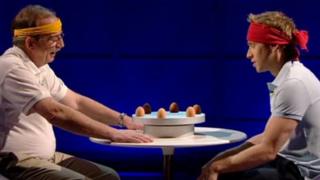 A team from Japan is taking part in the World Egg Throwing Championship for the first time.
In the event, which starts on Sunday in Swaton in Lincolnshire, they will face teams from Brazil, Germany, Ireland and current champions, the Netherlands.
The Japanese team is led by Mitsuomi Takahashi, star of the children's hit TV series Power Rangers, aka Big Red.
A spokeswoman for the team said they were confident of taking some silverware back to Japan.
'Expert chucker'
She said: "Two of our team play baseball - so they are very good at throwing and catching.
"We also have our egg connoisseur, who grew up on a farm - he knows if an egg is strong or weak."
However, the reigning world champions, Dutch duo Smink and Visser, said they fear no-one and predict the Japanese will go home empty-handed.
Last year, the Dutch pair tossed a raw egg 40m to win the distance-throwing event, but failed to break their own record of 63.2m.
Andy Dunlop, president of the World Egg Throwing Championship, held annually in Swaton, near Sleaford, said the Japanese faced some strong opposition.
He said: "Germany's top thrower Timo Breunig says his team have a trick or two up their sleeves.
"While the Irish have brought in their expert chucker and current distance world record holder.
"Wild Willie O'Donovan stunned the egg throwing world just last month at the Irish National by smashing the Dutchmen's previous record of 69.5 metres to set a new one at 71.2 metres."
Mr Dunlop added he was yet to hear whether Simon Cowell and Natalie Holt would be attending the event.
He said he expected Mr Cowell to keep the public guessing "right up to the line".
The World Egg Throwing Championships will take place as part of Swaton Vintage Day.
All money raised by the event will be used to support charities, including Leukaemia Research, The Red Cross, air ambulance provision, children's hospices, and Shelter Box.