Triton Knoll wind farm gets green light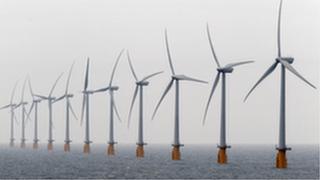 Plans to build almost 300 wind turbines off the Lincolnshire and Norfolk coast have been given the go-ahead.
RWE Npower Renewables has been granted permission to build Triton Knoll wind farm by the Secretary of State for Energy and Climate Change, Ed Davey.
The government said it would become the world's largest offshore wind farm.
A proposal to construct a substation the size of 30 football pitches at Bicker Fen will be submitted to the local authority in 2014.
The wind farm will be 20 miles off Mablethorpe to the shore at Anderby Creek.
RWE said its on-shore facility, which enables the transfer of electricity, would ideally be located at Bicker Fen, alongside the South Forty Foot Drain near Boston.
'Well sited project'
The substation will be connected to the offshore wind farm by underground cables which will stretch 68 miles (110km) to the turbines.
The proposal was met with anger in June. Some residents accused the company of trying to turn the village into an industrial site.
Others said it would drive down house prices.
RWE said the wind farm would create around 500 jobs during construction, and 300 during operation, and provide clean energy for up to 900,000 households.
Jacob Hain, Triton Knoll Project Manager, said: "We believed that Triton Knoll was a very well sited project. The decision by the Secretary of State endorses this.
"It sends another positive message to the industry about the growth and potential of renewables in the UK."