Sir Isaac Newton: Grantham's blue plaque tributes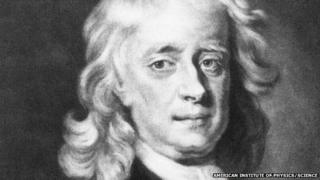 A second blue plaque honouring Sir Isaac Newton has been erected on the wall of his old school in Lincolnshire.
It is part of a scheme organised by Grantham Civic Society to celebrate the lives of the town's most famous people.
A plaque marking where Newton lived while attending King's School was unveiled last year as part of a festival celebrating his work.
Society spokesman Courtney Finn said the plaques would help raise awareness of the town's links with the scientist.
He said: "It's very exciting - Newton is hugely famous throughout the world and the plaque is going on the wall of the old school in Church Street - where he studied."
'Off the scale'
Last year, the Gravity Fields festival, which featured science exhibitions and Newton-themed theatre and art was held in the town.
Speaking at the event, the Astronomer Royal, Professor Martin Rees, said: "He was plainly the greatest scientific intellect of the second millennium, really off the scale.
"The schooling that he received here was, as it were, his launch pad. Without it we would never have heard of him."
Mr Finn added the civic society was "doing its best" to make the most of the town's links with Newton and other "significant" people.
He said it was important to promote Grantham's history to both visitors and locals.
Honours already in place include one for Captain Albert Ball and Lance Corporal Joseph Tombs - who both went to the same school as Newton.
However, there are currently no plans to erect a plaque to the first lady prime minister, Margaret Thatcher, who grew up at her father Alfred's grocery shop in North Parade.
Baroness Thatcher, who died in April, spent the first 18 years of her life in Grantham before studying chemistry at Oxford.
English Heritage guidelines state you should wait at least 100 years from birth, or 20 years after someone has died before erecting a plaque to them, said Mr Finn.