RAF Wickenby veteran receives Bomber Command clasp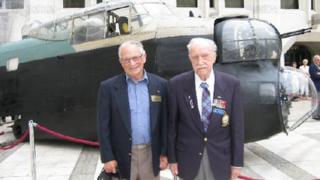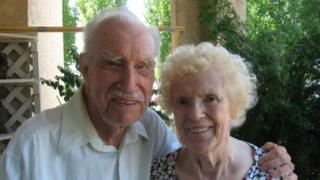 A 90-year-old Bomber Command veteran has been honoured with an award on his 71st wedding anniversary.
Ken Brind was a Lancaster Bomber navigator who flew with 626 Squadron out of RAF Wickenby, in Lincolnshire, during World War Two.
The Bomber Command clasp was introduced in February, after a Ministry of Defence review concluded Bomber Command had been treated "inconsistently".
Mr Brind, who now lives in Canada, said: "We waited a long time for this."
Mr Brind, originally from Aldbourne, Wiltshire, applied for the award following the government announcement.
'Lucky to survive it'
However, his application was lost, meaning he had to reapply in June.
He said receiving the clasp, which coincided with his anniversary with his wife Mary, "meant a lot".
"I think we were neglected," he said.
"It's reached a point where most of us from Bomber Command have gone. But those of us who are left - and I am in touch with a number of them - feel we are at last getting some recognition."
Mr Brind joined the RAF straight from Marlborough Grammar School at the beginning of the war.
He said: "You never forget those days. I was one of those who was lucky to survive them.
"In one case I was in hospital when my crew went on a bombing raid to Berlin and they were all killed. Because I wasn't with them, I survived.
"I loved navigating. I loved the Lancasters. But I didn't care much for getting shot at."
He stayed with the RAF after the war, becoming a navigation instructor. He then joined the Royal Canadian Air Force during the Cold War and moved to Canada in the 1950s.
He returned to Britain in 2012 with his sons, travelling to London for the dedication of the Bomber Command memorial.