Boston buoy put on display on Custom House Quay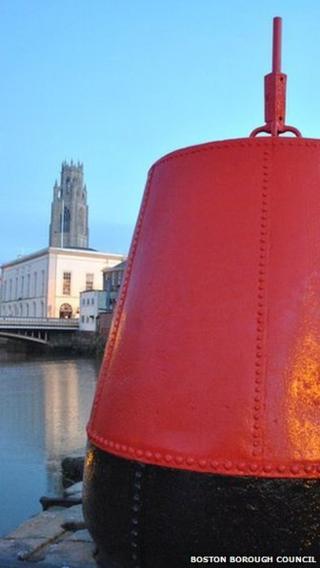 A two-tonne buoy which was used to guide ships in the Wash has been placed on display in a Lincolnshire town.
The 6ft (1.80m) tall buoy was lifted by crane on to Boston's revamped Custom House Quay at 06:00 BST.
It is part of a range of improvements in the area made by volunteers Boston Greenscapers and Boston in Bloom.
Boston in Bloom vice-chairwoman Alison Fairman said she was "delighted" with it and hoped it would become a "focal point of this whole area".
The buoy dates back to the 1950s and was used to mark the Parlour Channel for commercial ships until the 1980s.
Ms Fairman said buoys were traditionally used in the bay and estuary "because of all our sandbanks" but many had become "redundant when the large ships moved further into the middle" of the channel.
The buoy was purchased by the Boston Business Improvement District group from harbour master Richard Walker, who had it painted in the red and black colours of navigation authority Trinity House.
Boston Borough Council's portfolio holder for leisure services, councillor Yvonne Gunter, said the town had "a lot of connections with the sea and we thought it would be a nice idea to make [the buoy] a feature".