Brattleby gnomes prankster revealed at funeral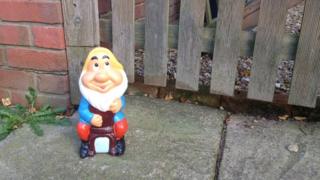 The identity of a mystery prankster who arranged for dozens of gnomes to be deposited around his village has been revealed after his death.
Television crews swarmed Brattleby in Lincolnshire when the gnomes first started appearing overnight in 2003.
Civil servant Peter Leighton seemed as baffled by the gnomes as his neighbours.
But at his funeral on Monday, his son revealed that Mr Leighton had masterminded the gnome prank.
David Leighton told the Lincolnshire Echo he remembered his dad laughing when he told him there were reporters and film crews in the village.
Gnome on coffin
He said it was his father's wish for the truth to be revealed at his funeral.
Neighbour Mike Spencer said Mr Leighton, who died of cancer aged 61, had wanted a gnome on his coffin "but his wife drew the line at that".
Mr Spencer said: "I'm sure wherever he is now he will think it's absolutely wonderful that he has hoodwinked everybody for 10 years.
"For a little tiny village of 45 houses and 100 residents to become known worldwide, kind of overnight, it was quite extraordinary really, and I still find it hard to believe, even now."
Another neighbour John Spratley said: "It lightened an already very sad occasion, sad at losing somebody so young, but he's going to be remembered with love by lots of people because of what he's done."
Erica Leighton said of her husband: "He was a true gentleman and an inspiration to us all and I loved him dearly."
'Military precision'
Mr Leighton paid for the gnomes and instructed his son and his son's friend to leave them in people's gardens and around the village.
Mr Spencer said: "Apparently it was planned with military precision.
"The two guys had a sack of gnomes on their shoulders and they had planned it because of the amount of gravel drives and noisy footfall, and there were security lights to take into account."
To avoid suspicion, Mr Leighton arranged for a gnome to be put outside his own house.
"Our first thought was that somebody with surplus stock was just dumping them," said Mr Spratley.
"But when it happened in subsequent years we felt we knew we had a suspect in mind as to who could have done it, but now we've been proved totally wrong."
Many gnomes were donated to a collector in another village.
"They are all now perfectly safe and well cared for in her garden," said Mr Spencer.