InterGen power deal: Essex and Lincolnshire plants planned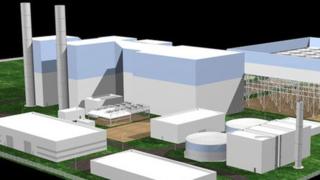 A power firm has chosen a partner for a huge project to build two £500m gas-fired power plants in Lincolnshire and Essex.
The InterGen project would generate a total of 2.1 gigawatts of capacity at the sites in Spalding and Coryton.
InterGen has signed an agreement with engineering firm Siemens to build and maintain the two power plants.
The project, which has approval but still needs financing, would create 3,000 construction jobs, InterGen said.
Both plants would be located next to existing facilities on the two sites.
Energy buyer
"All the approvals and consent for the project are ready to go - but we are waiting for negotiations on the sale of the energy and other infrastructure guarantees," InterGen spokesman Alastair Lamond said.
A project to expand power production at the Spalding site was approved in 2010, but was put on hold due to market conditions, he added.
The Royal Academy of Engineering said earlier this month that the closure of older power plants and the slow progress in building news ones was likely to stretch the UK's system, "close to its limits".
Mr Lamond said: "We hope to know by end of the year if we have a buyer for the energy - and we hope to have the project completed by 2018.
"Everything is lined up we just need to finalise the financing."
The project would also create 120 full-time jobs - 60 at each site, he said.
InterGen, formed in 1995, also operates a power station in Rocksavage, Cheshire and has developed power stations in 10 countries, including Australia and the Netherlands.