Top Lincolnshire police job only attracts one applicant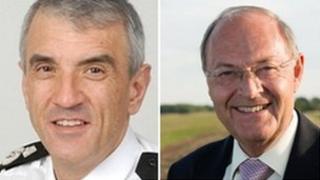 Only one candidate has applied for the £141,000-a-year post of chief constable in Lincolnshire.
The application is from current temporary chief Neil Rhodes, who was previously suspended by Lincolnshire police commissioner Alan Hardwick.
He was suspended over concerns about his involvement in an employment dispute, but later reinstated in March.
Mr Hardwick said the normal selection process will take place including an interview later in November.
'Inspiration' needed
A public confirmation hearing will be held in December if he is selected.
"I look forward to working with members of the selection panel and assessing his [Mr Rhodes's] application," Mr Hardwick said in a statement.
"An interview is scheduled for 18 November 2013 … and the appointment of a chief constable is subject to a public confirmation hearing to be held by the Police and Crime Panel on 6 December 2013."
Mr Hardwick said earlier that he wanted someone who would "inspire me and inspire the force".
Mr Rhodes was reinstated in March after a judicial review and a report by Sir Peter Fahy, chief constable at Greater Manchester Police, cleared him of any wrongdoing.
Chairman of the Home Affairs Select Committee Keith Vaz described the saga as a "soap opera".