Lincolnshire hospitals' overseas nurses start work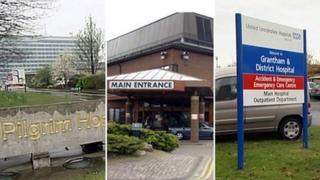 A hospital trust criticised for staffing levels has seen its first foreign recruits start work.
Almost 70 nurses from Greece, Portugal and Spain have started at The United Lincolnshire Hospital Trust (ULHT).
It was placed in special measures after the Bruce Keogh review criticised it for staffing levels, patient experience and constant changes in leadership.
The Royal College of Nursing (RCN) welcomed the recruits but warned there was some "apprehension".
About 101 newly qualified nurses started in September but the trust said it could not find enough staff locally.
'Very, very grateful'
It advertised abroad and the new recruits moved to the UK at the weekend, ready for their induction on Monday.
Jenny Creacy, from the RCN, said: "The new recruits are very welcome.
"There is some apprehension because we have newly qualified nurses and new recruits starting, and that's a lot of demand on the nurses on the wards to ensure they get the development and maturity that they need.
"But over all, the staff are very, very grateful that we are increasing our staffing levels."
She added they were confident in the recruitment process and the nurses' ability to speak English.
The trust said it would advertise for more overseas staff in early 2014 and it is in talks with students in Nottingham.