Brain damaged boy born at Lincoln County Hospital awarded payout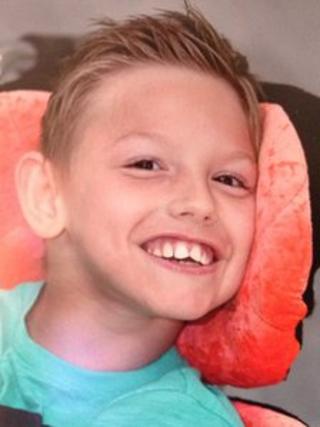 The family of a boy who suffered severe brain damage because of medical mistakes during his birth have been awarded compensation worth about £10m.
Aaron Crosby was starved of oxygen after his mother was given excessive doses of a drug designed to stimulate contractions during labour.
The nine-year-old, from Lincoln, cannot talk or control his limbs.
A barrister for United Lincolnshire Hospitals NHS Trust apologised in court for the hospital's errors.
Stephen Miller QC said: "Obviously, the trust is extremely sorry for the way in which matters were handled and apologise both to Aaron and to his parents."
The compensation package is believed to be one of the biggest paid out by the NHS.
Aaron was born at Lincoln County Hospital in September 2004.
His mother Rebecca, now 38, experienced uterine hyperstimulation because of the high drug dose she was given.
Medical staff also failed to check Aaron's heart rate for the last 35 minutes of the delivery.
Reduced life expectancy
This was because the heart monitor became disconnected because of the distress Mrs Crosby was in, and there was a delay in reconnecting it.
Aaron, who has a reduced life expectancy, suffered severe brain damage and has developed athetoid cerebral palsy and epilepsy.
A statement on behalf of his family said: "Aaron will require 24-hour care, a specially adapted home and transport, a variety of equipment and aids and physiotherapy and still won't be able to live the kind of life he deserves.
"The family now hope that lessons have been learned from this case and the same mistakes can be avoided in future."
The settlement, approved at the High Court earlier, is made up of a £3.25m immediate payout and staged annual payments for the rest of Aaron's life, rising to more than £200,000 a year.
A spokesman for lawyers Bridge McFarland said: "After a long fight on behalf of the Crosby family we are satisfied that the hospital has finally admitted liability and the family can now concentrate on trying to make Aaron's life as positive and comfortable as possible."
The same firm represented the family of Susan Hammond, who died after being administered penicillin at Lincoln Hospital despite being allergic to it.
The trust was investigated for high death rates as part of the Keogh review and was one of 11 placed in special measures in July because of major failings.
A trust spokesman said: "The trust is pleased that the hearing has been brought to a mutually satisfactory conclusion and hopes that the agreed settlement will assist Aaron to achieve his full potential in the future."