Lincoln council back plans for new homes in Swanpool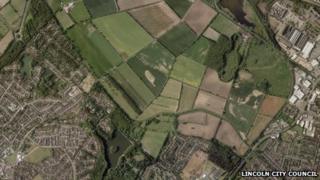 Plans to build 2,700 new homes at Swanpool near Lincoln have been described by Lincoln City Council as an "off-the-scale" development.
The council's chief executive Andrew Taylor said the project was "incredibly exciting".
The Environment Agency has withdrawn an earlier objection to the scheme over concerns about flooding.
The city council's executive committee is expected to support the project report at a meeting on 9 December.
Environment Agency concerns about flooding at the site, off Skellingthorpe Road, were withdrawn after proposals were made to raise the land in the area.
Former tip
Council chief executive Andrew Taylor said: "This is off the scale in relation to anything - in terms of size and complexity and investment - that the city council has done.
"You can say it is daunting but I think it is incredibly exciting."
Residents have previously expressed concerns about putting the new homes on "low-lying land".
Lincoln City Council has earmarked almost £750,000 for the 790-acre (320-hectare) development, which is estimated to cost a total of £250m and is known as the Western Growth Corridor.
If approved, the development is set to include schools, health facilities, green spaces, with views of Lincoln to be maintained.
The council owns 42% of the land, which includes the former Skewbridge tip.
Taylor Wimpey applied to build 4,550 homes on the site in 2006 but reduced the figure after the 2008 financial crisis.
The overall homes strategy for Lincolnshire calls for 18,000 homes in the Lincoln area, with another 10,000 in Gainsborough and 4,500 in Sleaford. The remaining homes would be located in rural areas.