MP Nick Boles office explosion: Paul Leverseidge jailed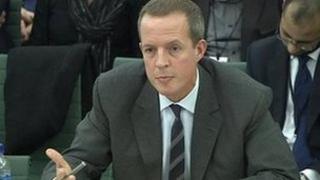 A man who threw a homemade explosive at a constituency office of planning minister Nick Boles has been jailed.
Paul Leverseidge strapped coins to fireworks and threw them at Conservative Hall in Bourne in Lincolnshire.
Lincoln Crown Court was told the attack in June was not political and that Leverseidge had health problems.
The 24-year-old, who lived opposite the building in North Street, was jailed for 15 months.
He pleaded guilty at an earlier hearing to having an explosive substance under suspicious circumstances.
Following the incident, Grantham and Stamford MP Mr Boles issued a statement in which he said: "Obviously I deplore this act of violence."
'Excitable state'
Richard Thatcher, prosecuting, said Leverseidge had first set off a powerful firework which caused a loud bang.
He then threw his homemade bomb at Conservative Hall, shattering a window and shaking nearby properties.
Residents went out to see what had happened and spotted Leverseidge nearby in an "excitable state".
Police sealed off the area and bomb squad officers were called to the scene to carry out checks.
CCTV footage identified the thrower as having come from the flats where Leverseidge lived.
Police searched his home and found a large number of fireworks.
Chris Milligan, defending, said Leverseidge set off the device "to see what would happen".
He said the defendant's life fell apart following the death of his father and he had turned to drugs.