West Bank crossing: Work starts in 'cut off' Saxilby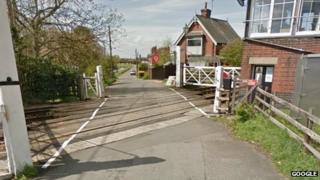 Work has started on a level crossing in Lincolnshire which villagers say will cut them off for two weeks over the Christmas period.
More than 50 people living along West Bank in Saxilby are unable to drive from their homes out of the village, due to the work.
Instead they must walk to a 24-hour shuttle bus which will take them to their vehicles in the village.
Work on the crossing is due to be completed by 3 January.
The only way for residents living on West Bank to get out is to walk across a humpback bridge over the Fossdyke Navigation to the A57.
'Very inconvenient'
From there, a bus will take them to their cars in a temporary car park at St Andrew's Community Centre in the village.
Maggie Hilton, a West Bank resident, said using the shuttle bus to get home was inconvenient.
"We have to go up to the sports field, leave the car, walk round to the drop off point, get onto the minibus and walk over the footpath on to another minibus."
Rachel Lowe from Network Rail said a temporary access road had been considered but was not deemed a "practical solution".
"We apologise to residents for the disruption and inconvenience, especially at this time of year," she said.