Dorothy Spicer death: Orders of St John Care Trust fined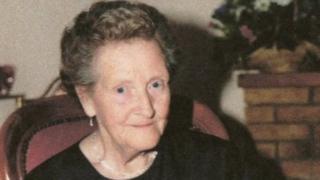 A care home trust has been fined £140,000 over the death of a woman left outside in freezing conditions for several hours.
Dorothy Spicer, 84, was found lying face down outside Whitefriars care home in Stamford, Lincolnshire, and died of pneumonia two months later.
The Orders of St John Care Trust pleaded guilty at Lincoln Crown Court to failing in its duty to her.
The trust said it had improved training and procedures since her death in 2010.
Jane Howard, one of Mrs Spicer's daughters, said: "It was so obvious from the inquest and the catalogue of errors it revealed that they allowed a vulnerable lady to spend the night outside in below-freezing conditions, which then resulted in her death.
"Evidence at the inquest revealed a catalogue of errors, proving too that she could have been found many, many times, had the right procedures at Whitefriars been followed."
Mrs Spicer, who had Alzheimer's disease, left the home on the evening of 25 November 2009.
Staff leaving after the day shift assumed that the night staff would put Mrs Spicer to bed, but the night shift assumed that the day shift staff had already put her to bed.
South Kesteven District Council, which prosecuted the trust, said there had been "a complete lack of adequate handover" between shifts, meaning Mrs Spicer was left unaccounted for.
'Management failings'
She was found in the grounds of the care home, conscious but hypothermic, at about 05:20 GMT on 26 November 2009.
An ambulance was called 80 minutes later and she was admitted to hospital.
She never recovered and died in hospital on 21 January 2010.
The council said their investigation concluded the incident "reflected wider corporate, systematic management failings which, if not present, could have prevented her death".
As well as being fined the trust has been ordered to pay £65,000 in legal costs.
Andrew Cheesbrough, chief executive of the trust, apologised to the family of Mrs Spicer.
"We made serious mistakes and in light of that I believe that the fine was appropriate," he said.