Skegness seal rescue centre 'almost full'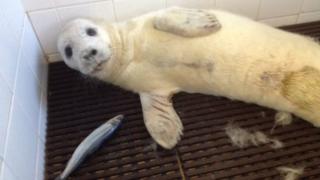 A Lincolnshire animal rescue centre is struggling to deal with an influx of baby seals stranded by the severe weather over Christmas, its owner says.
The Natureland centre in Skegness has eight seals in its hospital and is expecting more in the next few days.
High winds and rough seas have left the seals stranded or injured, the centre's owner Duncan Yeadon said.
It has rescued 15 seals in the past few weeks - more than half the number it usually rescues annually.
Antibiotics and vitamins
"It has been very hectic - we are worried at the prospect of being full - we know that other sanctuaries are in the same boat as us," Mr Yeadon said.
"Usually we have three or four rescue seal pups at this time of year… so it is very extraordinary that we should have this many."
He said the animal hospital was "almost full" but there was still some capacity in the outdoor pools.
"Seals are getting washed away from their mothers and then getting weaker and weaker and we find them washed up along the beaches on the Lincolnshire coastline," he added.
He said it cost about £2,000 to rescue, feed, treat and release a baby seal at the privately-run Natureland centre.
"It is a lot of money especially when a lot of money is not coming in. We are spending a lot of money on fish (for the seals) as they like good quality herring from Grimsby.
"We also have vets bill and bills for vitamin tablets and money for antibiotics we use on the seals when they come in."
He said the seals were assessed every day and "when they are well enough to move out of the hospital, we have pools we can move them into".
He said two other sanctuaries on England's east coast were also almost full with rescued seals - one in nearby Mablethorpe and another run by the RSPCA in Norfolk.